Russia-Ukraine war highlights: Putin to meet UN secretary general next week
Russia-Ukraine war highlights: The war has entered day 58 on Friday with Moscow troops now controlling Luhansk region at the east.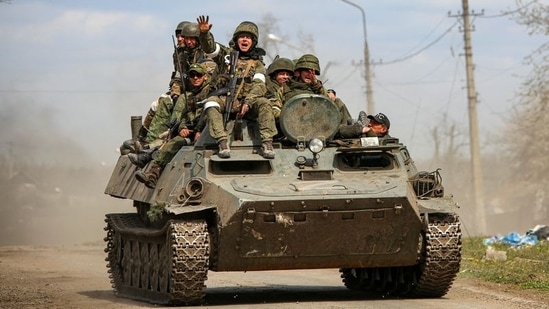 Updated on Apr 23, 2022 04:10 AM IST
The war between Russia and Ukraine entered day 58 on Friday as Russian troops continued to make advancements in the east. On Thursday, Russian President Vladimir Putin claimed victory over Mariupol and declared the key port city of Ukraine "liberated." The Russian forces now control 80% of the Luhansk region, which is one of two regions that make up the Donbas in eastern Ukraine, the governor said as Moscow troops advanced from staging areas in Donbas towards Kramatorsk.
Meanwhile, President Joe Biden has announced $1.3 billion in additional aid for Ukraine, including $800 million in military support, and vowed to ask Congress for additional funding.
Ukraine Prime Minister Denys Shmyhal who is on a visit to Washington, said it would cost $600 billion for his country to rebuild. In response, US Treasury Secretary Janet Yellen told the prime minister that it might be possible to get Russia to foot part of that bill. She also cautioned about Europe's possible ban on Russian oil and said it could hurt the world economy.
Follow all the updates here:
Apr 22, 2022 10:43 PM IST

Moldova summons Russian ambassador over military statements

Moldova on Friday summoned Russia's ambassador after a senior Russian commander said Moscow sought "control over the south of Ukraine" that could provide access to Moldova's breakaway region of Transnistria, AFP reported. "Moldova's foreign ministry views these statements as unfounded and contradicting Russia's position in support of the sovereignty and territorial integrity of our country within internationally recognised borders," the ministry said in a statement.

Apr 22, 2022 10:20 PM IST

Rest of Ukrainian fighters from Azov Battalion blockaded in Mariupol, claims Russia

Russian defence ministry says rest of the Ukrainian fighters from Azov battalion are blocked on Azovstal territory in Mariupol, Reuters reported.

Apr 22, 2022 09:58 PM IST

Guterres hopes to talk about what can be done to bring peace in Ukraine: UN spokesperson

The United Nations spokesperson says secretary general Antonio Guterres hopes to talk with Putin about what can be done to bring peace to Ukraine, Reuters reported. 

 

 

Apr 22, 2022 09:39 PM IST

Putin to meet UN secretary general next week: Report

Russian president Vladimir Putin to meet UN Secretary General Antonio Guterres next week, Reuters reported.

Apr 22, 2022 09:27 PM IST

Urged Putin to allow humanitarian access to Mariupol: EU chief

European Council president Charles Michel said he urged Russian President Vladimir Putin in a phone call Friday to allow humanitarian access to the besieged Ukrainian city of Mariupol during Orthodox Easter, Reuters reported.

"Strongly urged for immediate humanitarian access and safe passage from Mariupol and other besieged cities all the more on the occasion of Orthodox Easter" this weekend, Michel said on Twitter after the call.

Apr 22, 2022 08:28 PM IST

Russia-Ukraine talks have stalled, says Russian foreign minister

Talks between Moscow and Kyiv to put an end to Russia's near two-month military campaign in pro-Western Ukraine have stalled, Foreign Minister Sergei Lavrov said on Friday. "They (negotiations) have stalled now," he said after talks with his Kazakh counterpart in Moscow, adding that Russia has still had not received an answer to a latest proposal sent around five days ago.

Apr 22, 2022 07:47 PM IST

International collaboration with Russia impossible right now: Canada

Canada's Finance Minister Chrystia Freeland on Friday said that it was impossible to collaborate with Russia in the G20, a group that meets to discuss ways to foster global economic growth, as long as it is waging war in Ukraine, Reuters reported. "The G20 can't function effectively with Russia at the table," Freeland said in a joint news conference with Ukrainian Finance Minister Serhiy Marchenko.

Apr 22, 2022 07:25 PM IST

Rights defender who was detained for protesting against Ukraine invasion, leaves Russia

Lev Ponomarev, a veteran Russian rights defender who was earlier detained for protesting the Kremlin's military operation in Ukraine, said Friday he has "temporarily" left the country, AFP reported. The 80-year-old former parliament member has been engaged in activism since the last years of the Soviet Union, helping create the now-dissolved Memorial organisation in 1988.

Apr 22, 2022 07:01 PM IST

France sending heavy artillery pieces to Ukraine, says Prez Macron

French President Emmanuel Macron said on Friday that his sending several heavy artillery pieces to Ukraine.  "We are delivering significant equipment, from Milan (anti-tank missiles) to Caesar (self-propelled howitzers)," Macron told newspaper Ouest-France.

Apr 22, 2022 06:37 PM IST

Watch: Russia secretly buried Mariupol civilians in mass grave?

A new satellite image by U.S firm Maxar technology has revealed a mass grave in besieged Ukrainian port city of Mariupol. According to the satellite image, the mass grave site which contains more than 200 new graves has expanded in recent weeks. After the revelation, Mariupol mayor, Vadym Boychenko said that as many as 9000 civilians could be buried in the mass grave. Watch full video

Apr 22, 2022 06:21 PM IST

More than 5 million Ukrainians have fled the country, says UN

A total of 5,133,747 Ukrainians have fled the country since Russia invaded on February 24, AFP quoted the UN refugee agency.  The figure marks an increase of 48,387 from Thursday's data, UNHCR said. Some 1,098,000 Ukrainians have left the country during April so far, compared with 3.4 million for the whole of March.

Apr 22, 2022 06:03 PM IST

Talks with Zelensky depends on concrete results of talks between Russia and Ukraine, Putin tells EU chief

Russian president Vladimir Putin has told European Union president Charles Michel that possibility of talks with Zelensky depends on concreate results of talks between Moscow and Kyiv, Reuters quotes TASS agency

Apr 22, 2022 05:42 PM IST

Ukraine claims its national postal service hit by cyber attack

Ukraine's national postal service Ukrposhta said it had been hit by a cyberattack on Friday after sales of a postage stamp depicting a Ukrainian soldier making a crude gesture to a Russian warship went online, Reuters reported. Queues formed to buy the stamp when it went on sale at the postal headquarters in Kyiv last week following the sinking of the flagship of Russia's Black Sea fleet.

Apr 22, 2022 05:18 PM IST

Moscow aims to control entire south Ukraine, says Russian general

A Russian general said Moscow aims to extend control over the entire south of Ukraine, including Black Sea ports critical to its export economy. Germany's chancellor pledged to continue shipping weapons to Ukraine but said a "direct military confrontation" with nuclear-armed Russia must be avoided, Bloomberg reported. 

Apr 22, 2022 04:44 PM IST

Will reopen embassy in Kyiv next week, says British PM

Britain plans to reopen its embassy in the Ukrainian capital of Kyiv next week, Prime Minister Boris Johnson said on Friday during a two-day visit to India, Reuters reported. The British government said in February, days before Russia invaded Ukraine, that its embassy office in Kyiv was relocating temporarily and staff were operating from an embassy office in the city of Lviv.

Apr 22, 2022 04:17 PM IST

Germany promises additional 37 million Euros to rebuild Ukraine: Report

Germany will allocate additional 37 million euros (over USD 40 million) for the reconstruction of Ukraine, to build housing and restore the power grid, Sputnik quoted German Economic Development Minister Svenja Schulze. "Ukraine urgently needs housing for internally displaced persons, it needs the undamaged power grid … My ministry has redistributed funds for these purposes as part of the emergency program," Schulze told the Augsburger Allgemeine newspaper.

Apr 22, 2022 03:37 PM IST

Russia pushes offensive, collects corpses in Mariupol: Report

Russia pressed its new offensive in eastern Ukraine on Friday while in the port city of Mariupol, teams of volunteers collected corpses from the ruins after Moscow declared victory there despite Ukrainian forces holding out, Reuters reported. Ukraine's general staff said Russian forces had increased attacks along the whole frontline in the east of the country and were trying to mount an offensive in the Kharkiv region, north of Russia's main target, the Donbas.

Apr 22, 2022 03:18 PM IST

50 civilians killed in Bucha, claims UN

A United Nations mission to the Kyiv suburb of Bucha has documented that 50 civilians had been killed there, including by summary execution, Reuters quoted the United Nations. "During a mission to Bucha on the ninth of April, UN human rights officers documented the unlawful killing including by summary execution of some 50 civilians there," said Ravina Shamdasani, spokesperson for the Office of the High Commissioner for Human Rights.

Apr 22, 2022 02:58 PM IST

Russia condemns suspension of Olympic champion swimmer

The Kremlin on Friday condemned the nine-month suspension of Olympic champion swimmer Evgeny Rylov over his presence at a rally in support of Moscow's military campaign in Ukraine, Reuters reported. "We believe this is absolutely contrary to the ideas of sport," Kremlin spokesman Dmitry Peskov said of the decision by swimming's world governing body FINA to suspend Rylov. "When the strongest (competitors) lose the opportunity to participate, this ultimately harms international federations and international competitions."

Apr 22, 2022 02:42 PM IST

Russia lost 21,200 troops, 838 tanks since start of war, reports Ukraine media

The Ukraine Armed Forces have claimed that Russia lost 21,200 troops, 838 tanks since the start of war, The Kyiv Independent reported. The Ukrainian forces have claimed that Putin's forces lost 2,162 armed personnel carriers, 176 planes and 153 helicopters.

Apr 22, 2022 02:25 PM IST

Olympic gold medal winning swimmer handed nine months suspension for attending Putin rally

Swimming's world governing body FINA said on Friday it had suspended Russian Olympic gold medallist Evgeny Rylov for nine months after he attended a rally in Moscow in support of Russia's military campaign in Ukraine, Reuters reported. Rylov, who won gold in 100 and 200 metres backstroke events at last year's Tokyo Olympics, was among several athletes who attended a massive rally at Moscow's Luzhniki stadium last month hosted by President Vladimir Putin.

Apr 22, 2022 02:19 PM IST

Ukrainian soldiers trained in using UK-supplied armoured vehicles: British PM Boris Johnson

British PM Boris Johnson said the Ukrainian soldiers travelled to Britain to be trained in using UK-supplied armoured vehicles in their war against Russia, news agency AFP reported. "A couple of dozen troops arrived last week to train on the 120 Mastiff, Wolfhound and Husky armoured vehicles being supplied to Kyiv," an official said.

Apr 22, 2022 01:51 PM IST

Russia-Ukraine war LIVE: Russia to seek full control of Donbas, southern Ukraine, says military general

Russia's military says control of Ukraine's South will give Russia another gateway to breakway transnistria region of Moldova, reports news agency Reuters. 

Apr 22, 2022 12:42 PM IST

No evacuations on Friday due to 'insecurity along the routes': Ukraine PM

No evacuations of civilians will take place in war-torn Ukraine on Friday as the situation on the roads is too dangerous, Deputy Prime Minister Iryna Vereshchuk says. "Because of the insecurity along the routes, there will be no humanitarian corridors today, April 22" the prime minister said, according to news agency AFP.

Apr 22, 2022 12:25 PM IST

Australia sanctions Russian senators, Putin's daughters

Australia has imposed financial sanctions and travel bans on the adult daughters of President Vladimir Putin and Foreign Minister Sergei Lavrov, following similar moves by the US and the UK earlier this month.

Also sanctioned were the 144 Russian senators who supported Putin by approving the "illegitimate" recognition of independence in the Ukrainian regions of Donetsk and Luhansk, Australia's foreign ministry said.

Apr 22, 2022 11:25 AM IST

Russia blockaded Azovstal plant to contain Ukraine resistance: Britain

Russian President Vladimir Putin's decision to blockade the Azovstal steel plant in Ukraine likely indicates a desire to contain resistance in Mariupol, a British military update said on Friday.

"A full ground assault by Russia on the plant would likely incur significant Russian casualties, further decreasing their overall combat effectiveness," the update added.

Apr 22, 2022 10:46 AM IST

US warns China of support for Russia

A senior US diplomat again warned China of sanctions if it offers "material support" for Vladimir Putin's war in Ukraine, while also pledging to help India end its dependence on Russian weapons.

China wasn't helping the situation in Ukraine by doing things like amplifying Russian disinformation campaigns, US Deputy Secretary of State Wendy Sherman said at an event in Brussels. She said she hoped Beijing will learn the "right lessons" from Russia's war, including that it can't separate the U.S. from its allies.

Apr 22, 2022 09:54 AM IST

Satellite images show mass graves near Mariupol

Satellite images released Thursday showed what appeared to be mass graves near Mariupol, and local officials accused Russia of burying up to 9,000 Ukrainian civilians there in an effort to conceal the slaughter taking place in the siege of the port city.

Apr 22, 2022 09:12 AM IST

Have slowed imports of tech goods to Russia: US

Restrictions by the US and its allies have led to a fall in more than half of Russia's imports of high-tech goods and parts, hurting its manufacturing and military sectors, a Biden administration official said.

Apr 22, 2022 08:51 AM IST

Mariupol 'continues to resist', Ukrainian president says

The devastated city of Mariupol "continues to resist" despite Russian claims to have captured it, Ukrainian President Volodymyr Zelensky said Friday as he welcomed fresh US aid to help confront Moscow's eastern offensive.

Apr 22, 2022 07:10 AM IST

Germany to provide 37 million euros for Ukraine reconstruction: Report

Germany will provide a further 37 million euros ($40.12 million)to Ukraine for reconstruction as a result of the war, Augsburger Allgemeine newspaper reported on Friday, citing development ministry sources.

Apr 22, 2022 06:29 AM IST

Russia bars Kamala Harris, Meta CEO and 27 others from entering the country

Russia's foreign ministry has announced that it has barred US Vice President Kamala Harris, Meta CEO Mark Zuckerberg and 27 other prominent Americans from entering the country. But one of the people targeted by the sanctions, US State Department spokesman Ned Price, said he views the designation as an honor.

Apr 22, 2022 05:51 AM IST

'Just what we were waiting for': Zelensky thanks Biden for new aid package

Ukrainian President Volodymyr Zelenskyy thanked the United States for the new package of $800 million in military aid, which he said was "just what we were waiting for."
Despite success in preventing serious illness and death, there's growing pressure to develop vaccines better at fending off milder infections, too — as well as options to counter scary variants.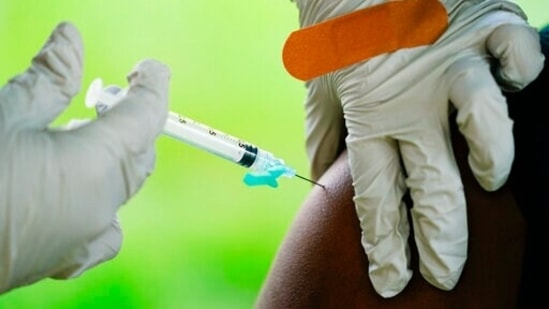 Published on Apr 24, 2022 10:20 PM IST
Months of lengthy blackouts, record inflation and acute food and fuel shortages have sparked increasing public discontent in Sri Lanka, which is dealing with its worst economic downturn since independence in 1948.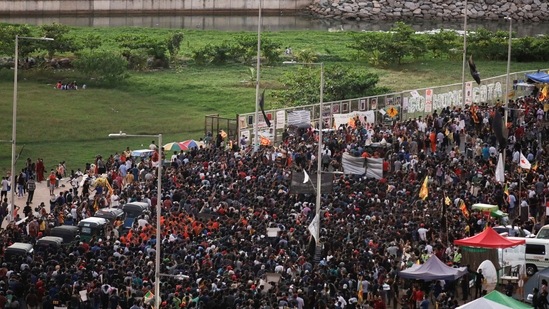 Published on Apr 24, 2022 09:46 PM IST
Ukraine's President Volodymyr Zelensky said he and his Turkish counterpart Recep Tayyip Erdogan discussed the need for the immediate evacuation of civilians from the mostly Russian-occupied port city of Mariupol,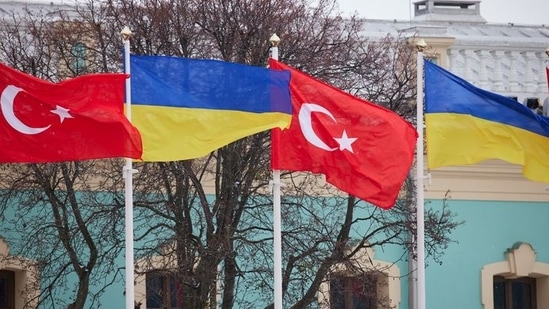 Published on Apr 24, 2022 05:40 PM IST
Rubizhne, which had a population of 60,000 before the war, is reached via a series of checkpoints manned by soldiers. "Kozak" armoured vehicles are given priority as they drive through to reinforce the front.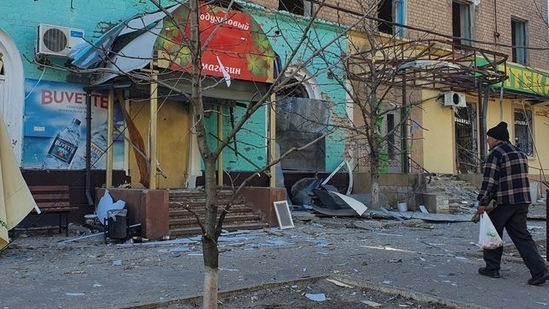 Published on Apr 24, 2022 05:37 PM IST
The explosion occurred late Friday at the illegal site between the southern oil states of Rivers and Imo, police said.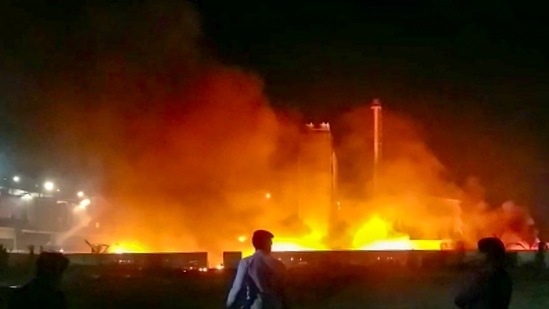 Published on Apr 24, 2022 04:00 PM IST
Beijing has ordered mass tests in certain areas of the city and targeted curbs on gatherings after dozens of Covid-19 cases – including nine in a middle school – were reported since the end of last week.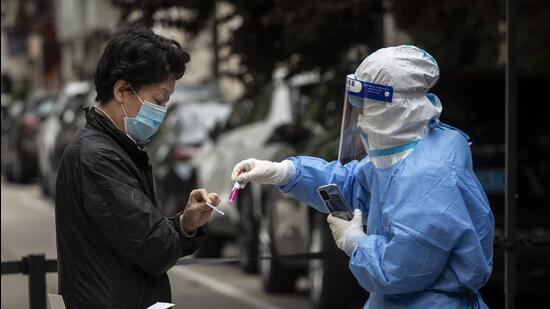 Updated on Apr 24, 2022 03:56 PM IST
BySutirtho Patranobis I Edited by Amit Chanda
Top 8 updates on global Covid-19 situation: Fresh cases in China's financial hub of Shanghai trickled down slightly for Saturday as authorities erected mesh barriers outside some residential buildings to curb the spread of Covid-19 via movement of citizens.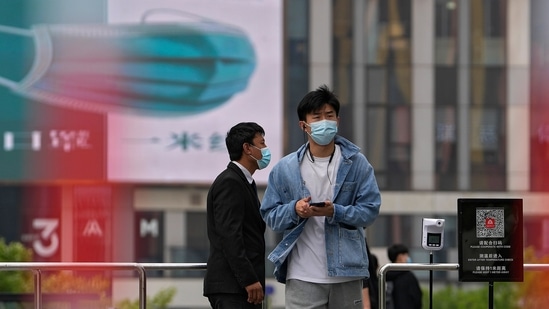 Updated on Apr 24, 2022 10:27 AM IST
Two months after invading Ukraine, Russia says its aim is full control of the Donbas region in the east as well as the south of the country. Here are key moments of the Ukraine War.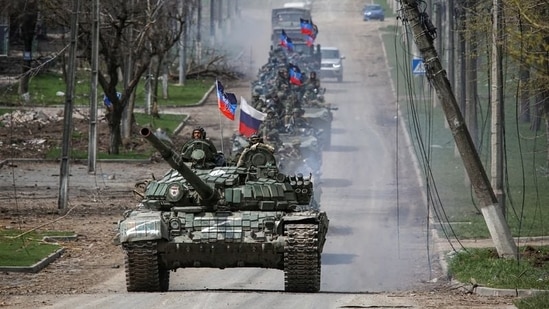 Published on Apr 24, 2022 09:37 AM IST
LIVE: The UN chief will visit Moscow to meet with Putin on Tuesday. "He hopes to talk about what can be done to bring peace to Ukraine urgently," said UN associate spokesperson Eri Kaneko.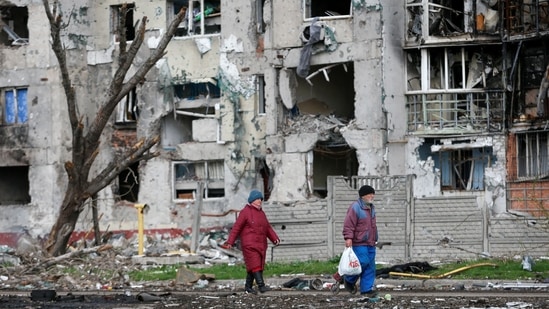 Updated on Apr 24, 2022 09:28 PM IST
The country's finance minister Ali Sabry held a series of meetings in Washington with the officials from the IMF, the World Bank, India and others, seeking financing help.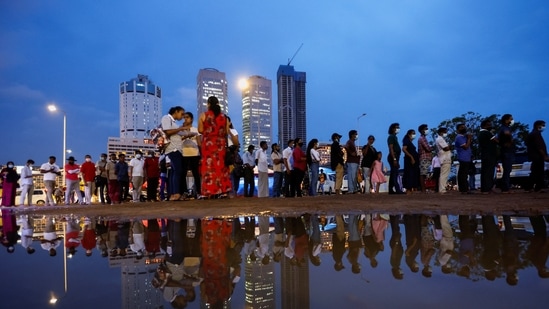 Published on Apr 24, 2022 07:07 AM IST
Source link